Sustainability permeates everything we do. Building vital infrastructure for tomorrow also means investing in that same future. In doing so, we focus on two pillars: sustainable education and green solutions.
Education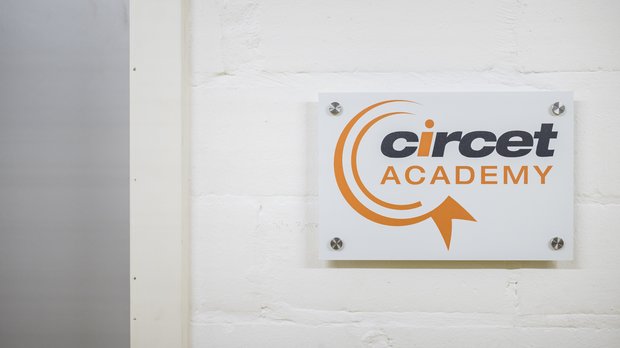 Circet Academy
Within our own organization, we offer training through the Circet Academy, both for colleagues and subcontractors. This can range from individuals seeking specific certifications to reskilling, language training, and practical workshops such as safety or fire extinguisher training.
> 25.000 instructional hours
in the Benelux in 2021
Young professionals
We organize young professional programs for recent graduates. They can spend 3-6 months under intensive guidance, gaining experience in different departments within Circet. At the end of the program, they can choose where they want to start their career at Circet.
High Potentials
We want to give all our employees the opportunity to reach their full potential. That's why we developed our High Potential program: those identified by their direct managers as eligible can participate in additional coaching sessions on leadership, presentation skills, group dynamics, and more.
External education
STEM-Olympiade
We are part of the jury in this competition for high school children. The participants are required to engage in coding, solve puzzles as a team, conduct a chemistry experiment, and more. By sponsoring this competition, we aim to promote STEM education.

The Flemish STEM Olympiad and Circet help young people discover and develop their technological talents.
SODA +
We provide financial support to this platform for young people with learning difficulties. We also regularly recruit new colleagues from this platform.

Circet is undeniably one of our main supporters. Their enthusiasm has contributed significantly to our strong growth!
Sustainable Solutions
The vital infrastructure of tomorrow is not built haphazardly, but as sustainably as possible. That's why:
Safety is of utmost importance. Our employees are continuously coached to work as safely as possible, and we regularly organize toolbox meetings to discuss any unsafe situations.
We constantly map out our waste streams. This helps us stay updated and enables us to keep optimizing.
We are renewing our entire fleet of vehicles and switching exclusively to electric or hybrid options. This applies to everyone, from office workers to installers. Our goal: CO2-neutral vehicles and buildings by 2030.