Safety, health, and environmental awareness: in every activity and every work process within Circet, we pay attention to it. From all those involved - managers, employees, and subcontractors - we expect them to act on it in practice, set a good example, and contribute to our policy.
We create a safe and healthy work environment.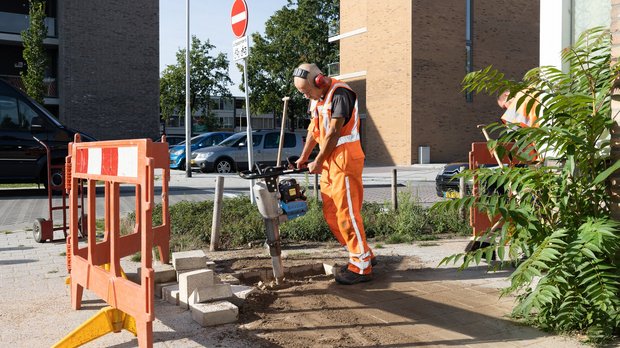 We thoroughly prepare work and provide clear work instructions. We conduct in-depth analyses of all potential work-related risks.
To ensure all risks are under control, our employees perform a Last Minute Risk Analysis (LMRA) in every new work situation.
All our employees are trained to work safely and healthily (e.g., knowledge of risks, proper use of PPE, correct actions in emergencies).
We focus on awareness to achieve the highest possible level of intrinsic safety. We take care of the environment.
We take care of the environment
The roof of our headquarters is covered with solar panels.

We work closely with accredited waste collectors and processors to optimize the recycling of various waste streams from our activities.
We train our employees to minimize the ecological footprint of our operations.
Our fleet has an ECOnetic label, and step by step, we are transitioning our fleet to environmentally friendly fuel. Where possible, we replace vans with alternative means of transportation (e.g., electric cargo bikes).
Certifications
We are VCA** certified and comply with ISO standard 9001. In 2023, we aim to achieve the ISO 22301 certificate for Business Continuity Management. Additionally, we hold the ISO 14001 certification (1) and the BRL 7000- protocol 7004 (1). We plan to obtain the ISO 45001 certificate for safety and the environment by 2024. Our efforts in the field of the environment and ethical conduct have earned us the Ecovadis label.

(1) only for Circet Netherlands
(2) only for Circet Belgium
We collaborate with like-minded partners.
We expect our subcontractors and other partners to prioritize safety, health, and the environment as highly as we do. All our collaboration contracts include safety provisions. We thoroughly screen our partners and evaluate them annually.
We only work with parties that, like us, are VCA certified and employ certified employees. If this is not the case, the respective subcontractor is given the opportunity to undergo the necessary training in our Circet Academy.
We continue to continuously improve our processes.
Our team of certified internal auditors conducts various improvement audits on a monthly basis. Our employees receive workplace inspections daily, and we take tailored measures to further enhance safety.
Through activities such as workplace inspections, toolbox meetings, and awareness campaigns, we continue to boost safe, healthy, and environmentally friendly work practices.
We also discuss potential optimizations with our clients, ranging from more efficient work processes to more environmentally friendly material use.